< Wave Wiper | Schematics | CV Mega Mixer by Ken Stone >
< ADSR based on CEM3310 chip by Scott Bernardi | Listbytype | Envelope Follower by Rene Schmitz >
---
DIY | EG | ADSR | Marc Bareille | Aaron Cram | Jürgen Haible
---
Dual Linear CV-ADSR by Marc Bareille ,from the notes on his page : The Dual ADSR module is adapted from the "EnvyLope" schematic of Mr Aaron Cram. This envelope generator design use the "J.Haible 4 transistors core". It is a Linear Envelope Generator, with voltage control. No OTA,CMOS, TTL,555, inside. 4 state leds shows each step of the ADSR.
Unlike the original schematic, my idea was to build a simple linear (CV) ADSR module. Not a multimode beast ... So this version do not work as an LFO, and CV control inputs are wired to potentiometers only . No external CVIN, this will be for the next time ! It is rather easy to add anyway with an extra " pcb patch..."
Envelope outputs are available on Jacks 6.35, direct (+) and inverse (-). The "INV" switch is a to add offset to keep the inverse (-) signal in positive domain.
The envelope output level is internaly trimmable. There is also 3 trimers to setup range times of stages A,D and R . They are not very obvious to tune ... 10/25 turns stable cermets advised... Envelope times are ranged from fast ( <5ms> 3 mins).
Logic i/o are bananas plugs. It is a personal choice , you can use jacks as well ...They are from left to rigth.
visit http://m.bareille.free.fr/modular1/adsr/mb_cvadsr2.htm for more detailed info ,construction manual and pcb's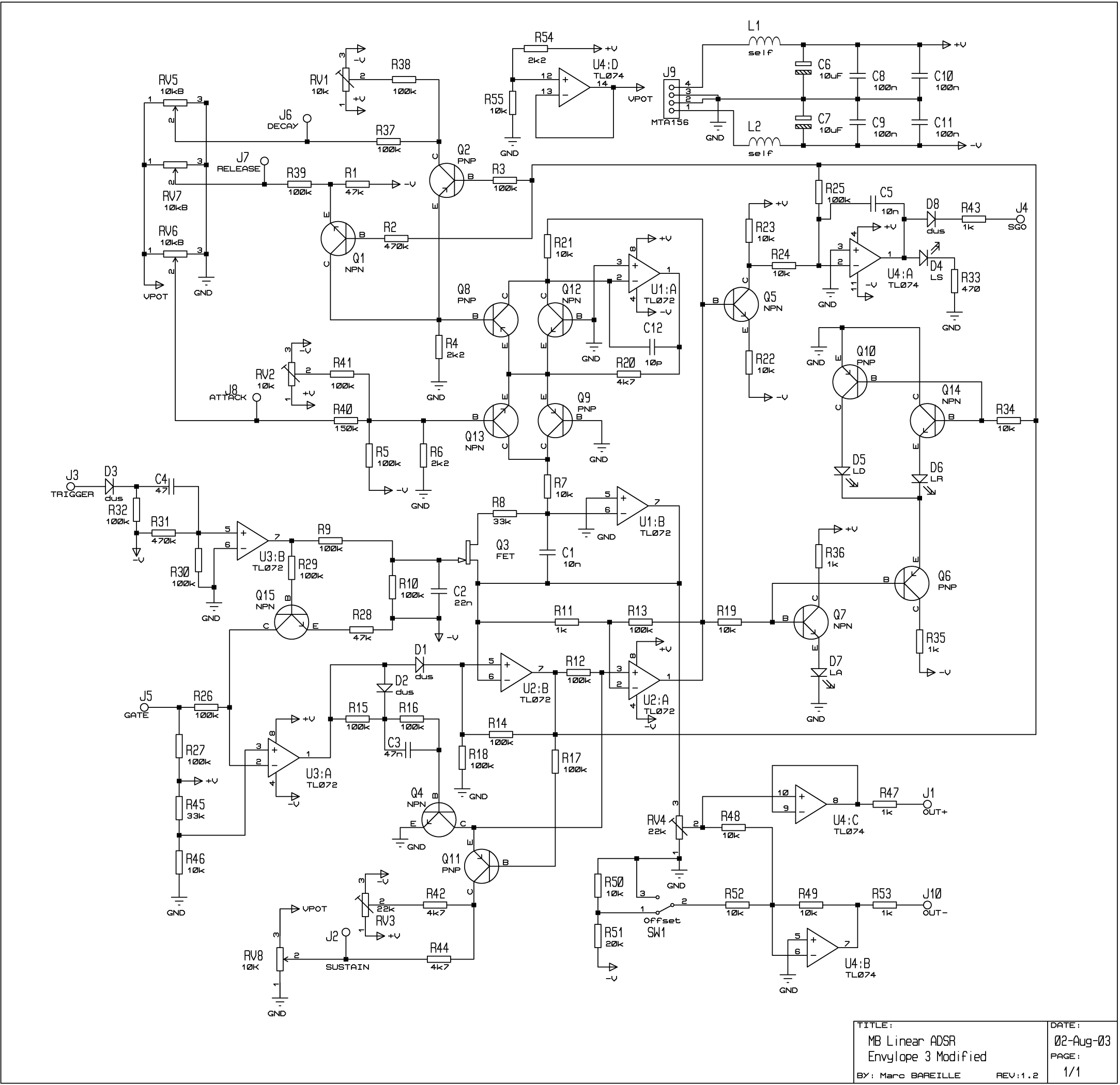 ---
< Wave Wiper | Schematics | CV Mega Mixer by Ken Stone >
< ADSR based on CEM3310 chip by Scott Bernardi | Listbytype | Envelope Follower by Rene Schmitz >