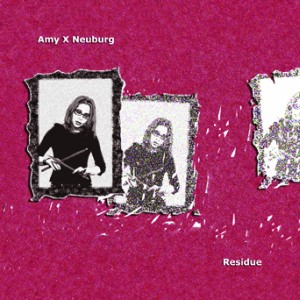 Amy X Neuburg - Residue
Electro-Diva extraordinaire
Amy X Neuburg
's new release,
Residue
, on
Other Minds Records
is marvelous. If you only buy one CD this year, get this one.
Residue
is a breakthrough recording.
I first heard of Amy from Tim Thompson, a member of the electro-music.com forums, via email. He said, "Great/catchy/accessible/deep composition, stunning vocals, terrific use of technology (but all serving the music). A 1-woman show, complex compositions are constructed completely live (she loops/layers her voice and plays/triggers things with drum pads)." Tim is sometimes prone to understatement.
Amy X Neuburg is a classically trained vocalist (Oberlin Conservatory), a composer, an electronic musician, a poet, and an entertainer. Her music covers a tremendous range of styles, from medieval religious chant through Kurt Weil cabaret singing, pop, rock, avant garde, sound text poetry, opera, African tribal singing, and electronic (ambient, beat, noise - everything). Her music is very experimental, but always under total control. The result is, like Tim said, accessible. She is satirical, profound, humorous and sexy too. Oh yes, Amy's voice is magnificent, a full-range masterfully controlled musical instrument.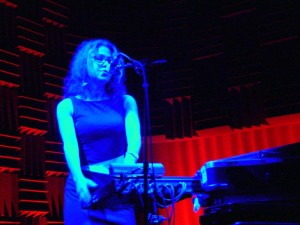 Electro-Diva Amy X Neuburg in Manhattan
While
Residue
was produced in her studio, these recordings are of compositions she performs live. I've seen her perform many of the songs in New York City; she dazzles her audiences. As I've said before, Amy X Neuburg is a star, a brilliant one. (See our reviews of her recent performances -
click here
and
here
.
Amy has a relatively small but sophisticated setup. She has a digital mixer with effects, a looper, a sample-based synthesizer, some drum controllers, some foot switches, and a few other miscellaneous gadgets. There is no external computer. Somehow the entire performance is stored as a series of presets which control all the equipment. As she goes through each piece, the drum controller changes function, sometimes as a loop controller - sometimes as a sample trigger - sometimes it even changes reverb parameters. Everything is very tightly planned, down to the beat. She performs by hitting the percussion controller with drum sticks and singing into a boom mic. (Sometimes she takes the mic off the boom and sings like a popular vocalist.) Her music is very tightly structured and the electronics change function instantly for whatever musical purpose she wants; sometimes several times in rapid succession during a piece - sometimes on every beat.
It's very difficult to describe Neuburg's music. In no special order I think of
Bob Dylan, Cyndi Lauper, John Lennon, Renee Flemming, Robert Ashley,
and
Laurie Anderson
, but with electronic music like nobody else. The songs on
Residue
combine the most mundane every-day aspects of live, like brushing your teeth, with the most profound.
If you are a musician, consider
Residue
a must-have CD; Amy is a musician's musician. That said, I think just about everyone would like
Residue
. Amy should be playing for huge houses. She deserves to be at Carnegie Hall. The kids should see and hear her on MTV.
We are very proud offer
Residue
at the
electro-music.com

store
. Go ahead, click through. There are some nice mp3 samples to enjoy.
Amy X Neuburg
makes her home in Oakland, California. You can visit her web site here:
http://www.isproductions.com/amy
(copyright 2004 by Howard Moscovitz)
---
View/Add comments on the forum