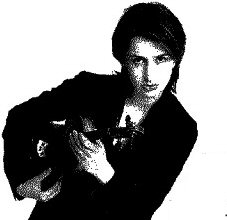 Ana Milosavljevic
On Sunday, January 30, 2005, at Carnegie Hall,
Ana Milosavljevic
presented a recital of new violin Music. Ms. Milosavljevic performed compositions by
Beth Anderson
,
Lauren Bernofsky
,
Margaret Fairlie-Kennedy
,
Aleksandra Vrebalov
,
Chen Yi
and
John Adams
. Ms.
Vrebalov's
"
Lila
" for solo violin was a world premiere.
Ana Milosavljevic
is a very enthusiastic performer of new music. She plays with a powerful intensity of expression. She presented pieces in various styles or genres which she can interpret with equal ease. She was accompanied by
Christofer Oldfather
and
Terezija Cukro
; both excellent pianists. The concert was quite an interesting journey.
Ana started with three pieces by
Beth Anderson, Tale #1, Tale #2, Dr. Blood's Mermaid Lullaby
, and
Belgian Tango
. These are charming pieces - songlike expressions, each in its own style. Beth's music is tonal - usually very beautiful. The lullaby was very special. To me it felt gentle, soaring, floating and just beautiful.
The Belgian Tango
is the one I'd choose if I were to ever dance the tango. It's very gentle, cool and laid back.
Song of the Phoenix
by
Lauren Bernofsky
was next. It was an interesting through-composed study-like composition of evolving melodies and figures. It kept my attention on every phrase and motif. This music is quite unpredictable, but totally logical.
The last piece of the first half was
Undertow
by
Margaret Fairlie-Kennedy
. This was a very angular, sometimes rhythmic, avant-garde dissonant exploration in melodic development. This piece is at times very dramatic and always very interesting.
After a short intermission, the second half of the program started with the world premiere of
Lila
by
Aleksandra Vrebalov
. This was marvelous adventure - sometimes with angular melodies, dissonant clusters, airy harmonics, and whimsical glissandi - always poetic. I was very impressed and moved by this piece.
Romance and Dance
by
Chen Yi
didn't seem very romantic or dance-like to me. This composition had a very powerful piano part; not just an accompaniment, but a part equal to the violin.
Road Movies
by
John Adams
ended the program. This piece in three movements was more experimental than some of
John Adams'
music I have heard. It's full of interesting prases that evolve - going back and forth in different permutations.
All in all, this was a very enjoyable evening. As an electronic music composer I was struck at the contrast with our concert music, which is more textural and more involved with timbre. A solo violin is a very expressive instrument, but its sonic and timbral range is quite limited. Still, interesting compositions and expressive playing kept my interest every moment. I found this performance to be quite inspiring and I came away with many ideas to explore in my own medium. That said, I'd like to hear this music performed with electronic keyboards and an appropriately processed electric violin.
To all electro-musicians I recommend that the opportunity be taken to attend performances of new classical acoustic music, especially if you get to see
Ana Milosavljevic
.
---
View/Add comments on the forum