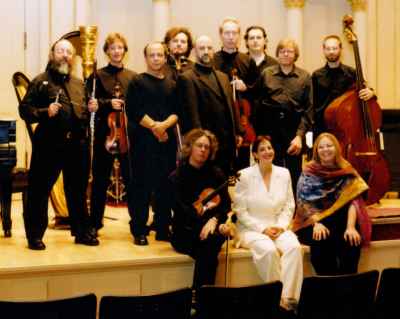 Beth Anderson (lower right) with the ensemble
Swales and Angels
, an evening of
Beth Anderson
's music was performed on November 19, 2003 at the Weil Auditorium in New York City's Carnegie Hall. The music at this concert was all acoustic, astonishing, beautiful, moving, and it took me totally by surprise. I'm still trying to gather my thoughts.
The performers included
Rubio String Quartet
, from Belgium,
Jessica Marsten
, soprano,
Joseph Kubera
, piano and celesta,
Gary M. Schneider
, conductor,
Andrew Bolotowsky
, flute,
Andre Tarantiles
, harp,
David Rozenblatt
, percussion, and
Darren Campbell
, string bass. They were all quite good. The small recital hall has excellent acoustics, as expected. The decor was in the style of 1850, oddly appropriate.
I've know Beth since the early 1970's when we were students together at Mills College. Actually, she arrived right after I graduated, but it was a small community. Unfortuantely, I lost contact with her when I moved away from the Bay Area in 1981. I was thrilled to hear of this concert in New York. I would get to see Beth again, and hear her music. All that at Carnegie Hall too, what a thrill!
Beth has studied with many composers and pianists including
John Cage, Terry Riley, Robert Ashley, Larry Austin
, and many others. While she was at Mills, she was one of the founders of
EAR
, an underground newspaper for the avant-garde music scene. When I knew her then, she was involved in many leading-edge, even radical, causes and movements. Hence, when I walked into this concert, I expected to hear music that was "out there" on the leading edge, both with instrumentation and composition. I was in for a big surprise.
The music was what people might call Neo-Romantic in style; there was nothing avant-garde about it. There was exuberant dissonance, no noise, no Cagian aleatrorics, no atonality, no arythmic or polyrhythmic sections, no polytonality, no serialism, no phase music, no minimalism - in fact nothing that would have seemed cutting-edge to someone sitting in that recital hall 100 or even 150 years ago. She writes:
Since 1985 I have been composing mostly swales for various instrumental combinations. A swale is a meadow or a marsh where there is nourishment and moisture and therefore, a rich diversity of plant life. My work, since 1984, has been made from swatches (of newly composed music, rather than found music) which are reminiscent of this diversity. When a horse named Swale won the Kentucky derby several years ago, I discovered the word and have used it extensively.
This explains many of the names of the pieces in this concert's repertoire -
Flute Swale

for flute solo


January Swale

for string quartet


March Swale

for string quartet


Pennyroyal Swale

for string quartet


Rosemary Swale

for string quartet


Piano Concerto

for piano, strings and percussion


The Angel

for soprano, harp, celesta and strings


New Mexico Swale

for flute, percussion and strings
I found Beth's work to be delightfully sensitive, beautiful, heart-felt, soulful, lyrical, and moving music. Sometimes it resembles simple folk music, hymns, anthems, prayers, hoedowns, laments, and mixtures of all these. At all times it is a very personal evocative expression that has a very deep poetic foundation.
I was very proud of my friend. What courage to compose music that is totally unconcerned with current style and trends; music that some people might thoughtlessly call reactionary, or at least old fashioned. Beth composes what she wants to, maybe what she has to, maybe what she needs to. I found the concert to be uplifting and inspiring. There was no "message", but what came across to me was: "To thine own self be true."
Natuarlly, after the concert I find myself in memories of Beth back in our student days. I remember now, that even in those exciting, turbulent, radical, and explosive times, whenever I spoke with her, Beth would mention her mother and Kentucky. She was rooted in the Earth, and in that place where she grew up. Then, you could share it with her by looking deeply into her eyes. Now you can listen to her music. Both are beautiful.
The
Swales and Angles
concert wasn't electro-music, but don't worry, Beth has just realeasd a new CD.
PEACHY KEEN-O

,
an all Beth Anderson recording of her text-sound, graphic,
electro-acoustic, and electronic music from the 1970's including Torero
Piece, Tower of Power, Peachy Keen-O, Ocean Motion Mildew Mind, Country
Time, Yes Sir Ree, I Can't Stand It, Joan, and Ode.

The performers include performers Beth and Marjorie Anderson, Linda
Collins, Kitty Mraw, Ana Perez, Wharton Tiers, Michael Blair and Spec
Edwards.

Pogus Productions-P21030-2 is available at http://www.pogus.com and soon on
http://www.amazon.com as well. Or call Toll-Free, 877.692.7999 or write
Pogus, 50 Ayr Rd., Chester, NY 10918-2409. The current price of a Pogus CD
is $14.00 plus S&H. There is more information and an MP3 at
http://www.pogus.com/21030.html.
Check out Beth Anderson's web site:
http://www.beand.com/
---
View/Add comments on the forum