electro-music.com

Receives Cisco's Innovative Company Award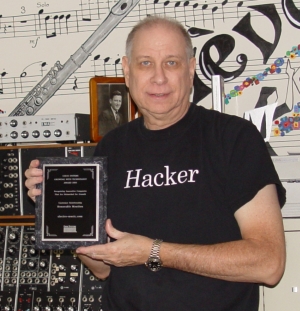 Howard Moscovitz holding the Cisco Growing With Technology Award
DATELINE — Oct. 21, 2005 -
electro-music.com
was named an
Honorable Mention
in the
Customer Service Relationship Category
of the
Cisco Growing with Technology Awards 2005
. Winners were announced during a ceremony at the Fairmont Hotel in San Jose, Calif.
electro-music.com
is an online community for musicians and enthusiasts of experimental electronic music. The site supports this community with a discussion forum, online music, synthesizer patch archives, e-mail lists, internet streaming of live concerts and jams, and an online store for CDs and related merchandise.
electro-music.com
provides their members leading-edge web services using a strategy of developing specialized software by integrating best-of-breed open source applications.
The
Cisco Growing with Technology Award
s was created to recognize small and medium-sized organizations that demonstrate how networking technology solutions can effectively address business challenges. The winners of the program serve as role models and best practices for other businesses that want to use technology to fuel growth and compete more effectively. A panel of 10 judges selected 15 winners in five categories from more than 600 applications.
"We are thrilled to be honored by this award from Cisco", said Howard Moscovitz, Editor-in-chief of
electro-music.com
. "This proves that it is possible to provide world-class web services using open-source software. Since we are able to modify the application software we use, we can provide services not possible using commercial packages. This is more than an award for
electro-music.com
, but for the hundreds or outstanding programmers working on open-source projects. We thank all of them."
This year's panel of judges is composed of a diverse, cross-section of experts in the field of small and medium business operations. Members include: Andy Bose, CEO, AMI-Partners; David Morgan, President and CEO, D.W. Morgan Company; Joni Podolsky, Director of Community Programs, Entrepreneurs Foundation; Josh Hyatt, Executive Editor, FSB: Fortune Small Business Magazine; Mika Krammer, Research Vice President, Gartner Group; Ray Boggs, Vice President of Small/Medium Business Research, IDC; Elspeth Jane Murray, Assistant Professor, Queen's University (Canada); Sam Steinhardt, Executive Director of Center for Innovations in Learning at Stanford University; Mark Quinn, District Director, U.S. Small Business Administration; Joe Diodati, Senior Director of Commercial Marketing, Cisco Systems.
"This year's winners have proven that there is a correlation between a company's investment in networking technology and success," said Peter Alexander, Vice President, Commercial Marketing, Cisco Systems. "
electro-music.com
was selected because they stood out as an organization that uses a network to create sustainable, competitive differentiation, while improving operational efficiencies and effectiveness."
---
View/Add comments on the forum