< Maplin 4600 ETI Synthesizer Envelope Generator design by Trevor Marshall | Schematics | HADSR using single-supply bipoler quad opamp by Osamu Hoshuyama >
< Maplin 4600 ETI Synthesizer Envelope Generator design by Trevor Marshall | Listbytype | HADSR using single-supply bipoler quad opamp by Osamu Hoshuyama >
---
DIY | EG | ADSR | HADSR | MS10 | MS20 | Jürgen Haible | Synthi | Trapezoid
---
Jurgen Haible design of MS10/MS20 type HADSR as additional envelope generator for his Synthi Clone, from what he wrote on his page http://www.jhaible.de/tonline_stuff/hj_synclon.html :
The Trapezoid Generator contributes to the Synthi A's uniqueness, and I wouldn't replace it, but sometimes a "normal" envelope could be useful as well. I chose the Korg MS-10 / MS-20 style Hold-Attack-Decay-Sustain-Release circuit as an additional EG.
Component values are changed to match the +12V / -9V supply. The 1 MΩ potentiometers are a compromise. I've increased the integration capacitor to preserve the maximum time, but this also increases the minimum time.
This is surely not optimal, and I may change it some time. (several MOSFETs in parallel ?!)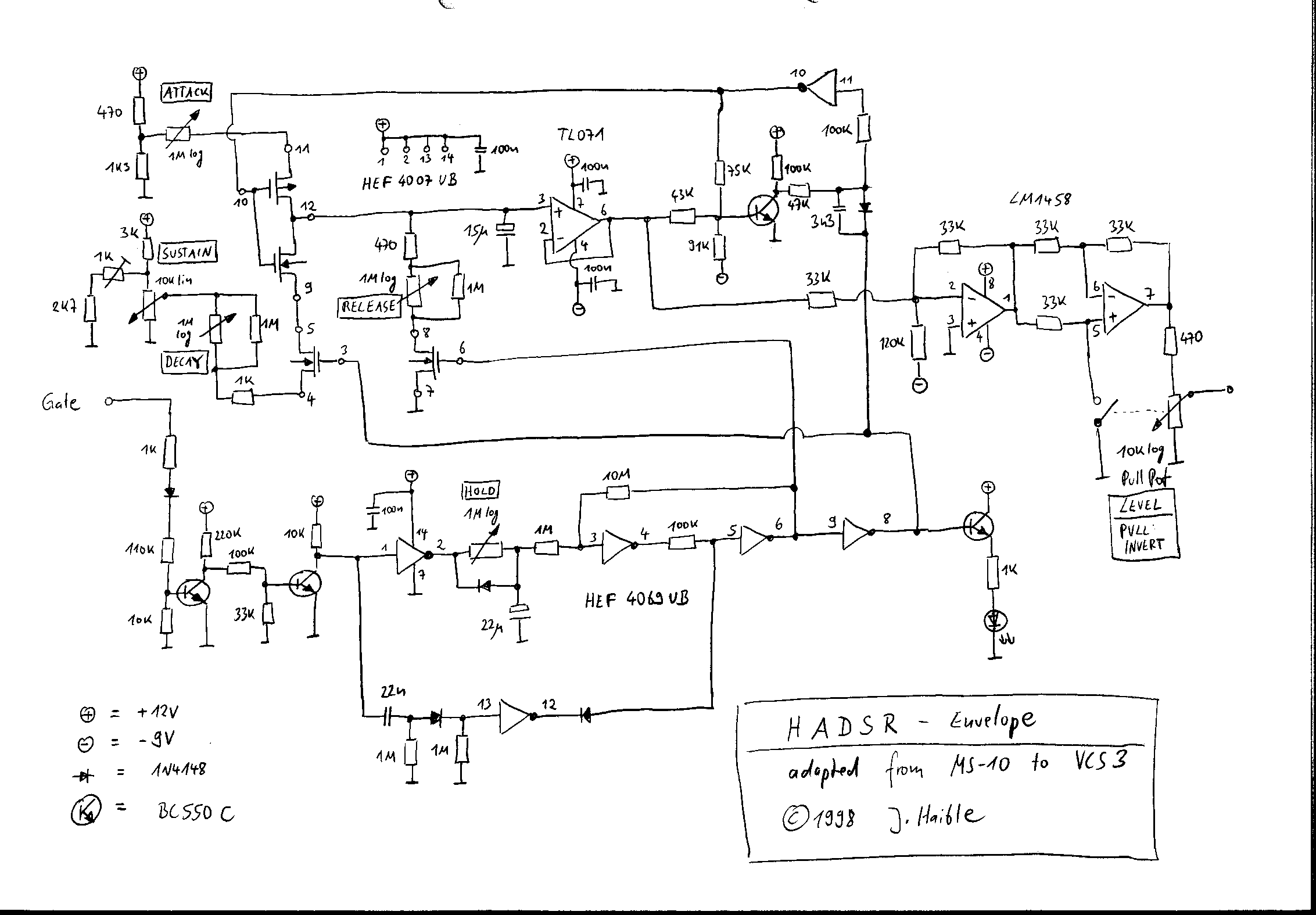 ---
< Maplin 4600 ETI Synthesizer Envelope Generator design by Trevor Marshall | Schematics | HADSR using single-supply bipoler quad opamp by Osamu Hoshuyama >
< Maplin 4600 ETI Synthesizer Envelope Generator design by Trevor Marshall | Listbytype | HADSR using single-supply bipoler quad opamp by Osamu Hoshuyama >