< this is a circuit i accidentally breadboarded | Schematics | Digisound 80-20 Waveform Multiplier >
< this is a circuit i accidentally breadboarded | Listbytype | Digisound 80-20 Waveform Multiplier >
---
DIY | Wave Shaping | Ken Stone
---
Ken Stone's Wave Multiplier ,page with details ,BoM , and pcb's http://www.cgs.synth.net/modules/cgs29_wave_multiplier.html from the notes there :
The idea for this project came from the fabled middle section of the Serge wave multipliers. At the time I designed this, I had never seen or heard one of these units, nor had I seen its schematic diagrams, but armed with descriptions and suppositions by various people who had seen them, and a couple of photos of CRO traces from the output of the module, I decided to design myself one.
The result as displayed on the CRO is very close to those of the Serge, with the exception of the final fold, where, in my design, the wave maintains more of its original shape. It can produce the most amazing, harmonically rich, filter-like sweeps.
In addition to this multiplier, there are two more simple multipliers, one created by adding lag to the feedback path of an op-amp, the other being the "Nonselective Frequency Tripler" by R. Lockhart. Its functionality is not unlike Moog's single transistor sawtooth to triangle wave converter. It's intended purpose is to convert a signal into another of three times the frequency. To do this it expects a +/-1.2 volt triangle or sine wave, and outputs a +/-0.4 volt complex waveform. Unfortunately, due to the uneven spacing of the frequency multiplied waveform, it does not sound like it is a fifth above the incoming signal. This of course in of no particular concern in this application, as the purpose of this module is to create a complex harmonic structure from a simple input, not to triple the frequency. See the Simple Wave Folder for further details on this circuit.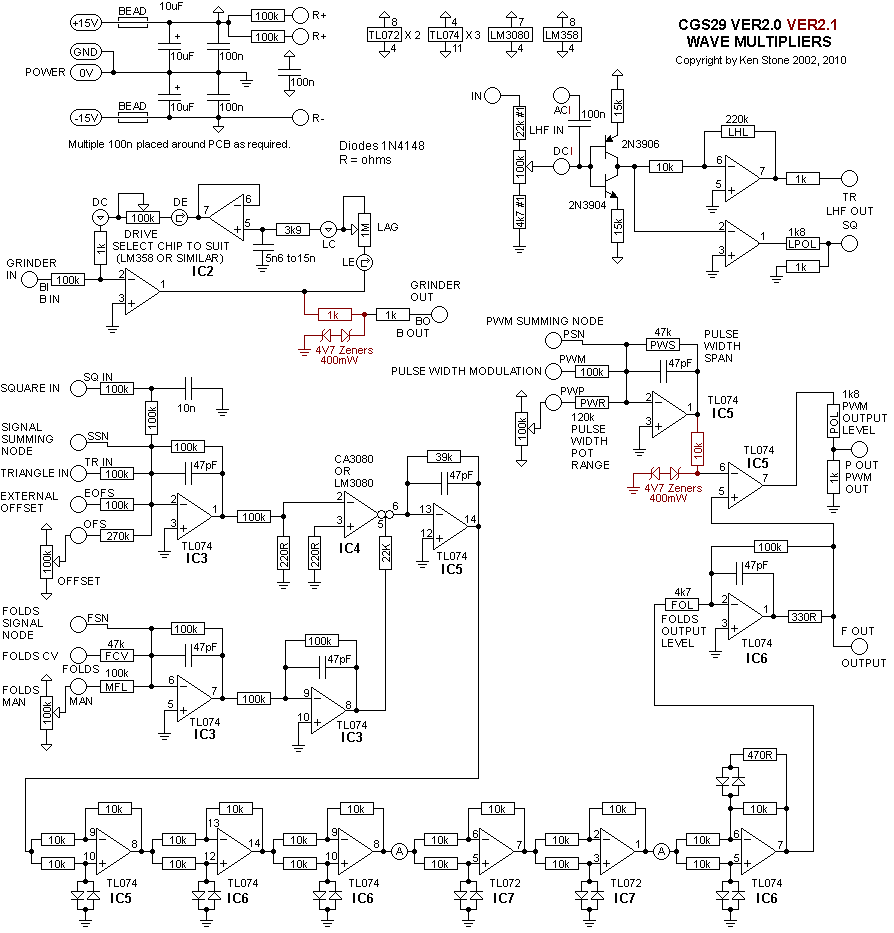 ---
< this is a circuit i accidentally breadboarded | Schematics | Digisound 80-20 Waveform Multiplier >
< this is a circuit i accidentally breadboarded | Listbytype | Digisound 80-20 Waveform Multiplier >