< Magic Smoke LFO, design by Tim Servo | Schematics | Moog Source VCLFO redrawn by Marjan Urekar >
< Magic Smoke LFO, design by Tim Servo | Listbytype | Moog Source VCLFO redrawn by Marjan Urekar >
---
DIY | LFO | LFX | Wave shaping | Magic Smoke | Tim Servo | Triangle
---
Magic Smoke LFX - LFO ,with a waveshaper output ,more on this thread : http://electro-music.com/forum/viewtopic.php?highlight=lfo&t=49081 ,from Tim Servo : Here's a LFO design I've been having a lot of fun with lately. The LFO core is my "8K" design that some of you have seen before. It's a variation on the standard Integrator / Comparator triangle core LFO, and I tweaked it a bit to give it a wider range (about 8,000 : 1, hence the name). The waveshapers are a combination of a tri-to-saw waveshaper ("Wave A" which is basically a sign changer) and my own TSQ tri-to-square waveshaper ("Wave B"). Here's a link to a YouTube vid where I put in a different cap to see (and hear) what the various wave combinations looked like:
I call it the LFX. It's a pretty easy circuit to build, and will definitely provide you some very different LFO waveforms. Enjoy!!
NOTE: THIS IS AN UPDATED REV 02 VERSION WITH A NEW VALUE FOR R5.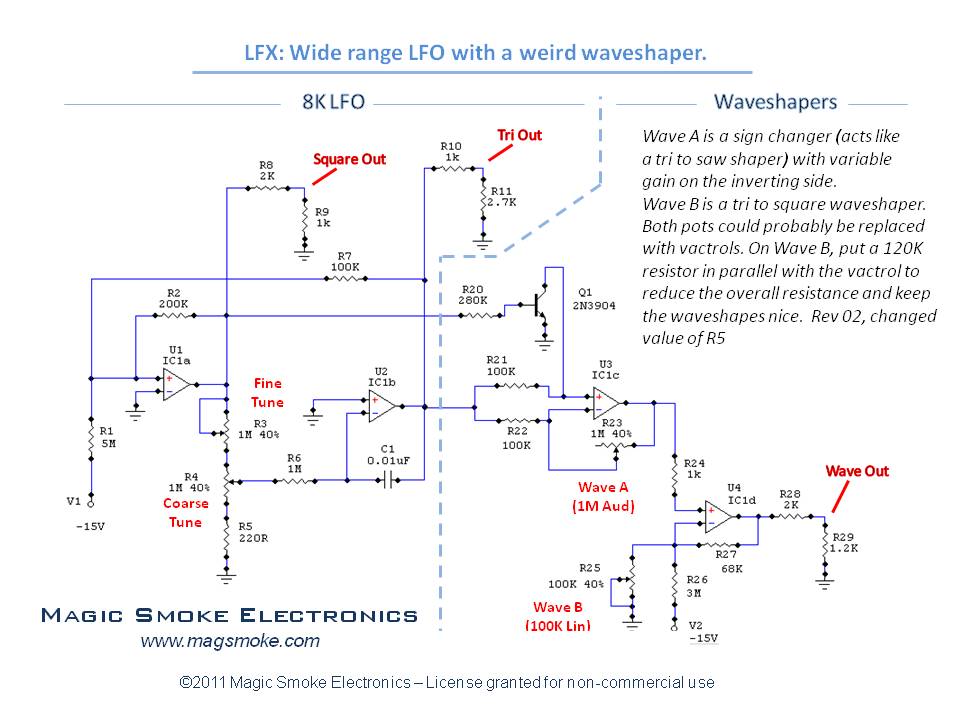 ---
< Magic Smoke LFO, design by Tim Servo | Schematics | Moog Source VCLFO redrawn by Marjan Urekar >
< Magic Smoke LFO, design by Tim Servo | Listbytype | Moog Source VCLFO redrawn by Marjan Urekar >