< Juergen Haible's Living VCO | Schematics | Soundlab Mark II VCO by Ray Wilson >
< Juergen Haible's Living VCO | Listbytype | Soundlab Mark II VCO by Ray Wilson >
---
---
Sawtooth VCO by Ian Fritz ,visit his page for in depth overview on this circuit http://home.comcast.net/~ijfritz/sy_cir2.htm ,from the description given there :
The figure above shows my current implementation of the popular integrator-with-reset sawtooth VCO. Very briefly, the circuit operates as follows. Capacitor C2 and op amp OA3 form an active integrator which is driven by current from an exponential current source built around op amp OA2 and the differential transistor pair Q1-Q2. When the integrator output reaches the 4-V threshold set by OA4, the comparitor U1 puts out a short voltage pulse which turns on the FET switch Q3, thereby discharging C2. The charging cycle then begins again. The input control signals are summed and scaled by OA1, with temperature compensation provided by R11. Finally, OA5 scales the output to a 10-V peak value. The design is a modification of the original circuit of Terry Michaels (Electronotes, v. 62).
The main goals of the present design were to reduce the temperature drift and to improve speed and tuning accuracy by employing modern op amps. For improved stability and temperature drift, on-board +/- 6.9 V regulated supplies were added (circuitry around the LM329 chips in the upper right corner of the figure). These are used to supply the critical voltages in the circuitry for: 1) the coarse frequency control (R3), 2) the reference current in the exponential converter (OA2) and 3) the ramp reset point (OA4). For improved op-amp performance in critical parts of the circuit -- OA1, OA2 and OA3 -- I selected the Burr Brown OPA132. This chip was chosen for its combination of low input current (5 pA), fast slew rate (20 V/usec), high stability and moderate price (under $4).
this design is further discussed on this thread : http://www.electro-music.com/forum/viewtopic.php?t=28633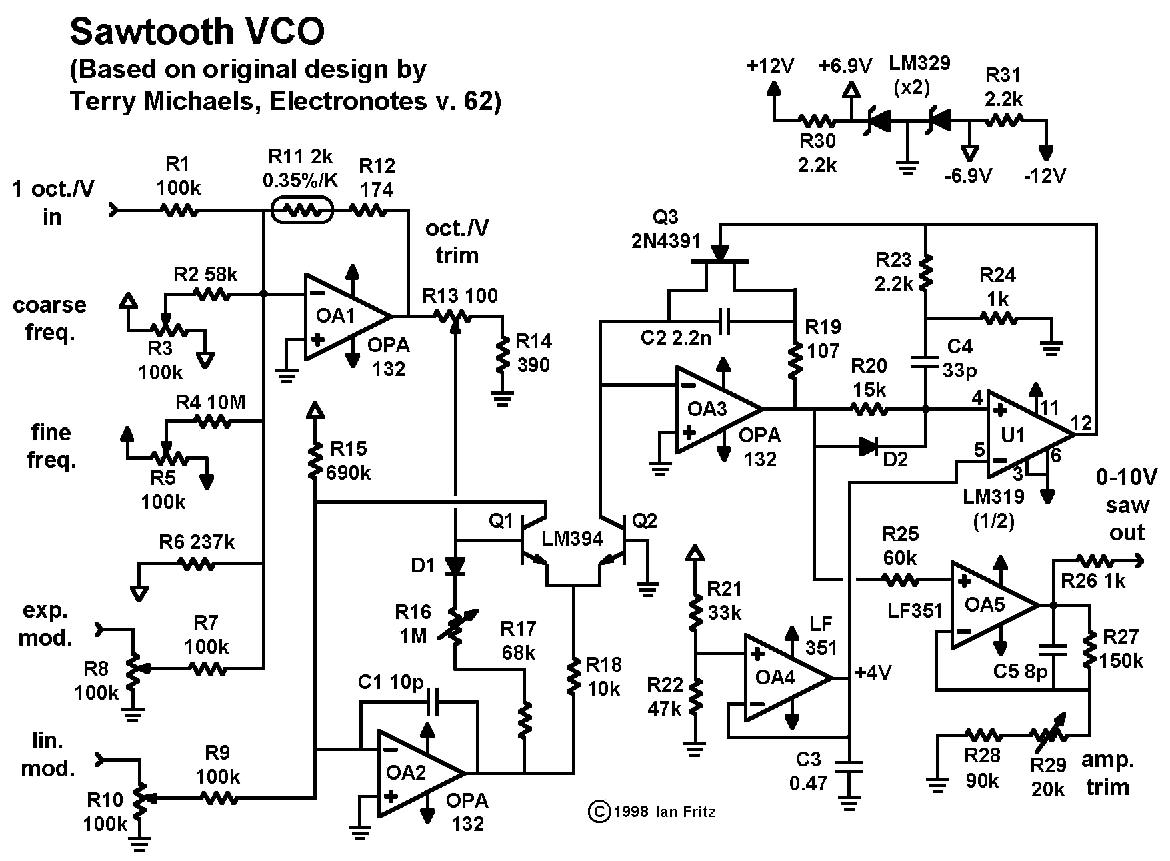 ---
< Juergen Haible's Living VCO | Schematics | Soundlab Mark II VCO by Ray Wilson >
< Juergen Haible's Living VCO | Listbytype | Soundlab Mark II VCO by Ray Wilson >