< PLL FREQUENCY MULTIPLIER MODULE | Schematics | Voltage Controlled Divide by N >
< CV Twister - Wave Warper adaptation | Listbytype | Morphing Programmer >
---
DIY | Wave Shaping | Divider | Multiplier | Scott Stites
---
WaveThing Multiply/Divide Wave Shaping Circuit by Scott Stites ,as he present it on the following thread http://electro-music.com/forum/viewtopic.php?t=33149&postorder=asc , from his post :
For the past number of weeks, I've been designing a series of VCO embiggeners that I call the "WaveThing" series. Here's an offshoot of one of the designs that might come in handy for someone. I figured I'd break this one off before it turned into one of my more complex designs, as they are all wont to be. This one is fairly simple yet very effective.
It's a design that derives octave-down sawtooth, triangle, and pulse width modulated waveforms from a single downward ramping sawtooth input. I didn't take the extra step to put in a triangle-to-sine converter on the triangle, because I personally prefer a triangle wave as the "unobtrusive" sub-oscillator (the smooth add-meat-but-not-buzz signal). Sawtooth is a great sub-oscillator waveform, and a nice break from the standard square wave sub-oscillator. The pulse output can put out square waves, or fixed pulses of any width, or (really meaty-beaty-big-and-bouncy) a pulse-width modulated waveform.
The circuit should run on either +/-12V or +/-15V. I'm using 15V; 12V may require different values for R14/R15 to get full 10Vp-p output. It *must* be fed with a downward ramping sawtooth. The sawtooth output is also downward ramping. If you don't have a downward ramping sawtooth, an inverter or a switchable inverter for the input can be easily put in. You would want to keep the sawtooth output the same phase as the sawtooth input that you are using (mixing an upward sawtooth with its downward one octave down counterpart can dull the sound). An inverter for the output and input can easily be accomplished with a SPST switch, I believe. Or, if you never intend to put in a downward sawtooth, just put an inverter on the front end and connect the Q output of the flipflop to Q2 (instead of /Q), which will cause the circuit to generate an upward ramping sawtooth.
Note the power connections on the two CMOS parts. Half the flipflop is not used and two thirds of the CD40106 is not used, either. One could probably put in an extra octave down with those parts. I haven't, because that's not the direction I'm going with this series. Wink
The one trim on it is easy to do - you just tweak it until the sawtooth output has a smooth, unbroken ramp. Very easy - just connect the dots.
Cheerios, Scott
visit : http://www.birthofasynth.com/ for more designs by Scott Stites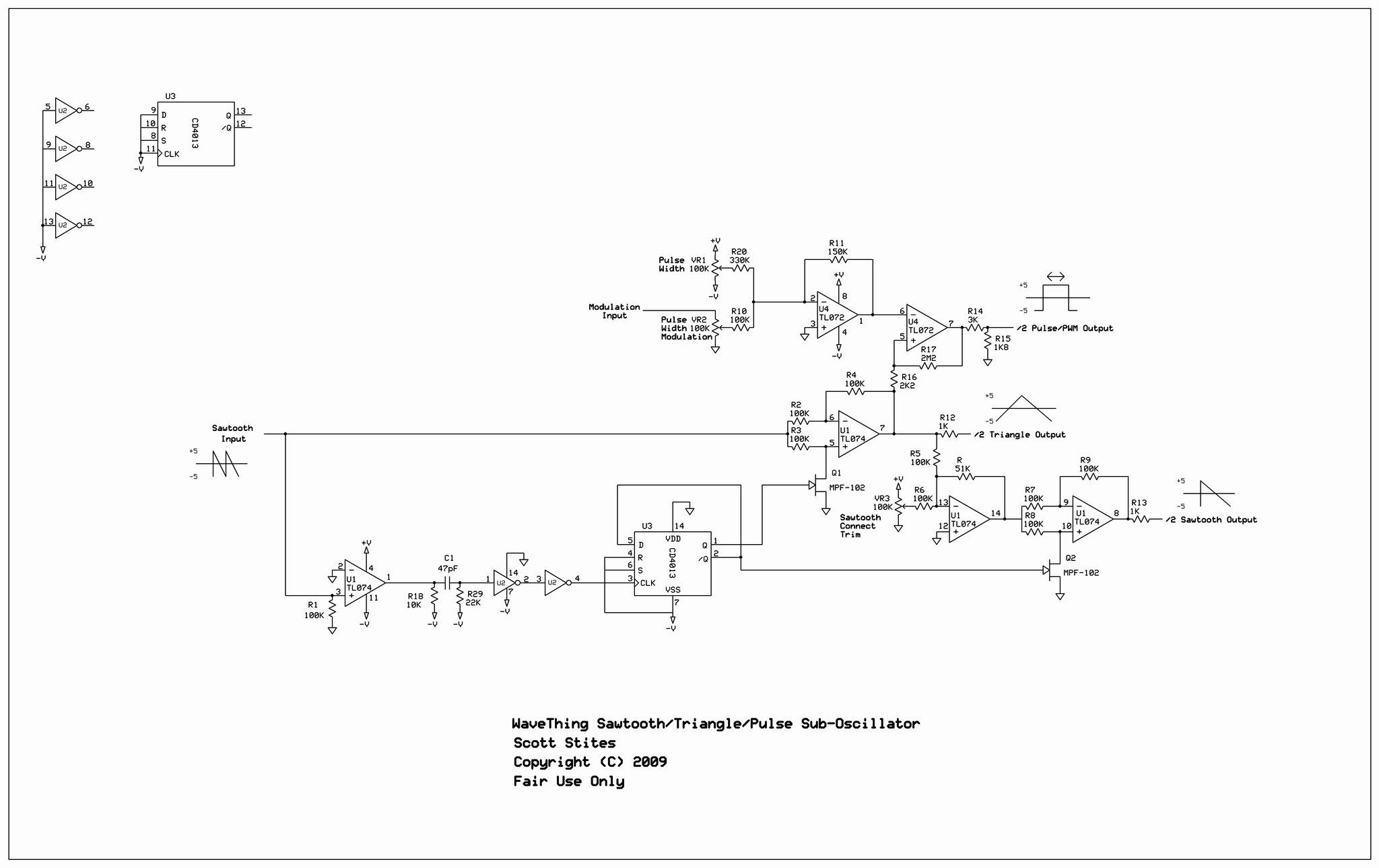 ---
< PLL FREQUENCY MULTIPLIER MODULE | Schematics | Voltage Controlled Divide by N >
< CV Twister - Wave Warper adaptation | Listbytype | Morphing Programmer >